Welcome to Kildalkey
Failte go dti Cill Dealga
---
Kildalkey or Cill Dealga in Gaelic (meaning Delga's Church), is a quaint little rural village situated in the Barony of Lune, County of Meath, province of Leinster in the Republic of Ireland.

It is approximately 53km north west of Dublin. The heritage town of Trim lies just 11km to the east. Athboy is 5km to the North and Ballivor is 6km to the SW.

Kildalkey has a rich history dating back to the 5th century. Like many Irish towns and villages it has its origins founded in the establishment of a monastic Abbey that was later dedicated to Kildalkey's adopted patron saint - St. Dympna
Kildalkey (pronounced Kildawkey) was formerly known as Killshallago or Coill Sealga meaning "the wood for the hunting". The River Turry runs close to the village.
The village has seen an increase in its population over the last decade or so, with the recent Celtic Tiger boom delivering a host of new housing developments within the village environs. This has led to the influx of a vibrant younger population adding to the mix of what was a decreasing and ageing population.
According to the last Census of Population of Ireland in 2016, the current population of Kildalkey is put at 1,301 up from 1,232 in 2011, an increase of 5.6%. There are 654 males and 647 females according to the 2016 preliminary Census results.
Since the turn of this 3rd millennium, a former public house and nursing home have been demolished and replaced with a new public house, townhouses and apartments. Pupil numbers in the local school have dramatically increased leading to the planning for future development of a new 12 classroom school on a new site close to the village. Construction has now begun on the new school as of late June 2017.
Kildalkey has no native industry but is situated in an agricultural community. There are some self-employed small trade company's but most find employment in other areas of Meath including Navan and adjoining towns and villages in Trim, Athboy and Ballivor.
Many others choose to travel to Ireland's Capital of Dublin to work which is now only about an hour away thanks to the improved road network. The new housing schemes erected within the village, boasts a varied influx of talent to the area and despite working trips to Dublin have chosen the quieter pace of life in Kildalkey.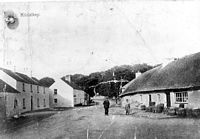 For books about Kildalkey and the life and times and or memoirs of residents click here
---