St. Dympna's Church Kildalkey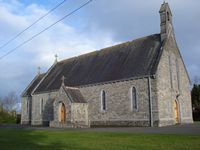 Kildalkey church or St. Dympna's Church, as it is known locally, was erected in 1890 and finally opened on 1st May 1898. It cost £3,690. It was designed by W.H. Byrne and was commissioned by the Rev. John Martin (1835-1908) who was Parish Priest of Kildalkey and Ballivor who were joined by union at the time because of dwindling population. It celebrated its centenary in 1998.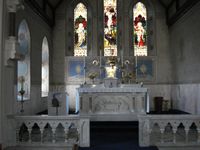 According to the Rev. J. Brady's continuation of Fr. Cogan's history of the Diocese of Meath Vol1. page 140-145, the former church, was built by the Rev. Chas. Reynolds who was PP of Kildalkey from 1856 to 1881. It was used until 1898 when the current church was opened. In 1931, the main aisle of the old chapel was removed and the remains of the building formed part of the former mixed Kildalkey National School which closed in 2018 in favour of a brand new purpose built school.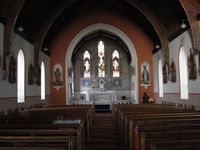 The rock that built the church was quarried from Mount Nugent. It was hauled all the way by horse and carts. They divided the parish into four lots and each section took its turn. The route was Clonmellon, Killallon, Oldcastle and over the hills into Mount Nugent. Daly's of Killallon was the watering hole for man and beast. It is still there to this day. Each cart averaged about 18 cwt. of rock. Anthony Rooney had two shire horses and each one could bring 25cwt. The quarry owner had a special cart pulled by 3 horses and he used to do a run to Kildalkey to help out.
Stone Masons
The professional stone masons that built Kildalkey's new church came from around the Newry area. They would come down for 2 or 3 months and go back home again. Charlie Miggin's mother ran the pub at the time. It was a big lone pub and she kept most of the stone masons. There was a lot of voluntary local labour, but the windows and the belfry was finished by tradesmen. It was a long hard haul from Mount Nugent to Kildalkey for man and beast, with iron wheeled carts, bad roads and not a lot to eat for man or beast. They were tough men. When the old school was demolished to make way for the new chapel, folklore has it, that the boy's teacher was a Mr John Collins and the girls teacher was Mrs Bird.