Notices
Annual Dinner Dance
Takes place on Saturday 21st March, 2015 at 8.30pm
Venue - Castle Arch Hotel, Trim.
---
AGM
Kildalkey GAA AGM will be held on Saturday 10th of January 2015 in the Parish hall at 6:45pm. After mass for deceased members at 6pm in the Church. Current and new members are most welcome.
---
Strictly Come Dancing
Kildalkey GAA hosts a fundraising night of Strictly Come Dancing on Saturday 23rd November 2013 in Trim GAA Club starting at 8:00pm. Tickets €20.
---
Border Wars
Kildalkey GAA Development team is running the White Collar Boxing Event again this year on February 25th 2012. Contact any member of executive team for tickets. Tickets cost €20 or 2 for €30. Discounted for students €10.
---
Race Night
Kildalkey Hurling & Football Club are having a Race Nite in the Village Inn on Friday 3rd June 2011. Please support this event.
---
Kildalkey Adult Camogie
New players wanted

For details contact Susanne Ledwith on 086-3585826

or email: ledwsus@ie.ibm.com

We also have the following juvenile teams:

U8, U10, U11, U12, U13, U14, U15, U16
---
B-B-Q
Kildalkey Hurling & Football Club is holding a BBQ in the Village Inn on Sunday 1st Aug 2010 at 7pm.

Music by Trevor and Ken.

Lots of spot prizes to be won
COME ALONG AND SUPPORT YOUR CLUB.
---
Notice of Meeting
Thursday 17th June, 2010 8.30pm in the Parish Hall.

Kildalkey GAA Club development committe wish to present the future development plans for your GAA club.

The presentation will outline the needs of our club for the years ahead.
Kildalkey Hurling & Camogie Club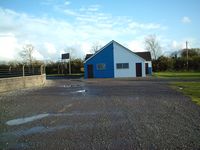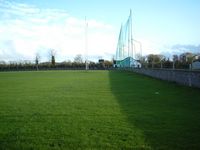 Upcoming Courses
Foundation course on Dunganny - 2nd & 6th February

Award 1 course Boardsmill on 1st, 3rd, 8th & 10th March

Code of Best Practice in Dunganny on February 3rd at 7pm
---
Kildalkey Hurling and Camogie Club receive new training Jerseys and club half zip tops.
Fantastic presentation took place on 20th Aug 2015 where local sponsorship of Training Jerseys by Michael Darby Woodcraft & Construction, Crew Barbers and Wayne Law of DHL Ireland. Below are some of the photos of the event. The U12, U14, U16 & U18 teams all participated in the respective divisional Finals during the year and in recognition for this achievement, the jerseys and tops were sponsored. It provides a great sense of identity to the club and it shows appreciated of all the achievements of each team throughout the year. Well done to all the players and coaches involved. Thanks again to the primary sponsors of the jerseys and tops.
Martin Browne, Captain of Kildalkey U16 team, Stephen Masterson, Minor Team coach, Michael Darby Woodcraft & Construction, Conor Kearney and Mark Healy Minor Team
Michael Darby Woodcraft and Conor Kearney Captain of Minor Team
Michael Darby Woodcraft and Construction and Martin Browne, Captain of U16 Team
Patsy Colvin, captain of U12 and Sean Colhoun, captain of U14 team with sponsor Wayne Law, DHL Ireland along with team coaches Ireneaus Cully and Eoin Redmond
Michael Darby Woodcraft & Construction and Wayne Law, DHL Ireland
---
Kildalkey Hurling &amp Camogie Club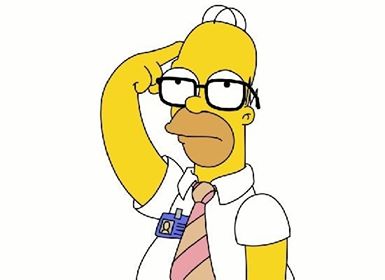 Annual Table Quiz in aid of Kildalkey Juvenile GAA Club takes place on Friday the 15th May at 8:30pm in the The Village Inn.

Please come out and support your Club.

Minor Hurling Semifinal 2015

Thursday 14th May

Kildalkey vs. Boardsmill

Please come out and support your team in the park.

Defibrillator Course on in Dressing rooms in Park

Monday 18th May 2015

If interested, please contact Philip Lyons 0876326112
---
Kildalkey U14 Hurlers competing at 2015 Raharney tournament
---
Kildalkey Juvenile GAA News – Feb'2015
U12 hurling Training Starts 1st Feb at Parochial hall 11:15am Sundays
1st Game for U12's – 1st March 2015

U14 hurling Training Starting Sat 7th Feb

U14 Hurling Team taking part in County Feile in Dunganny on Weekend of 20th Feb

U14 Hurling League – 1st Game is on 7th March

U16 Hurling league – 1st Game is on 15th March

Date for Diary
Kildalkey Hurling / Camogie Cul Camp Scheduled for August 10th to 14th
---
Hurling Foundation Course
A Hurling foundation Course will take place on Monday 9th Feb 2015 in the Parochial House and Wed 11th Feb 2015 in Parish hall – 7:00pm
All newly appointed coaches for 2015 and anyone interested in getting involved in coaching kids in Camogie / hurling, please contact the following to register your name and get booked into course
Philip Lyons – 087 632 6112
Susanne Ledwidth – 086 358 5826
Pat O'Halloran - 087 683 6719
---
Heavey to Lead Royals
Local clubman Sean Heavey has been honoured to succeed Stephen Clynch as captain of the Meath Senior Hurling team for 2015. Having achieved success with Kildalkey Senior's with their memorable three in a row County titles from 2009-2011, Sean has been an ever present member of the Meath team for the last number of years.

Sean lead Meath to Keogh Cup success last year and begins his captaincy next Sunday 18th January, 2015 in Pairc Tealtainn at 12:15pm against St Pats-Mater Dei. This is the curtain raiser to the O'Byrne Cup clash between Meath and Dublin.

Read more...
---
Table Quiz
Kildalkey GAA is hosting a Sports Table Quiz on Friday 16th January, 2015 in the Village Inn at 9:00pm.

€10 per person. All welcome
---
Notice of AGM
Our AGM will be held on Saturday 10th of January 2015 in the Parish hall at 6:45pm. After mass for deceased members at 6pm in the Church. Current and new members are most welcome.
---
Juvenile GAA Notice of AGM
Kildalkey Juvenile GAA AGM will be held on Sunday 7th of December 2014 in the Parish hall at 7pm.

All members please attend.
---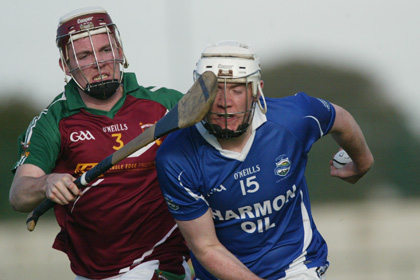 Kiltale take Kildalkey to task Again
Kiltale did the double over Kildalkey in their snatch victory in the Div 1 League final on Saturday 18th October in Trim having already overcome the village in the SHC semi-final three weeks earlier. Alas, Pat O'Halloran's last hurrah was to end with the narrowest of defeats to Kiltale who had won the SHC a week earlier.

The score was Kildalkey 1-16 to 4-08 Kiltale.

Match Report Here.
---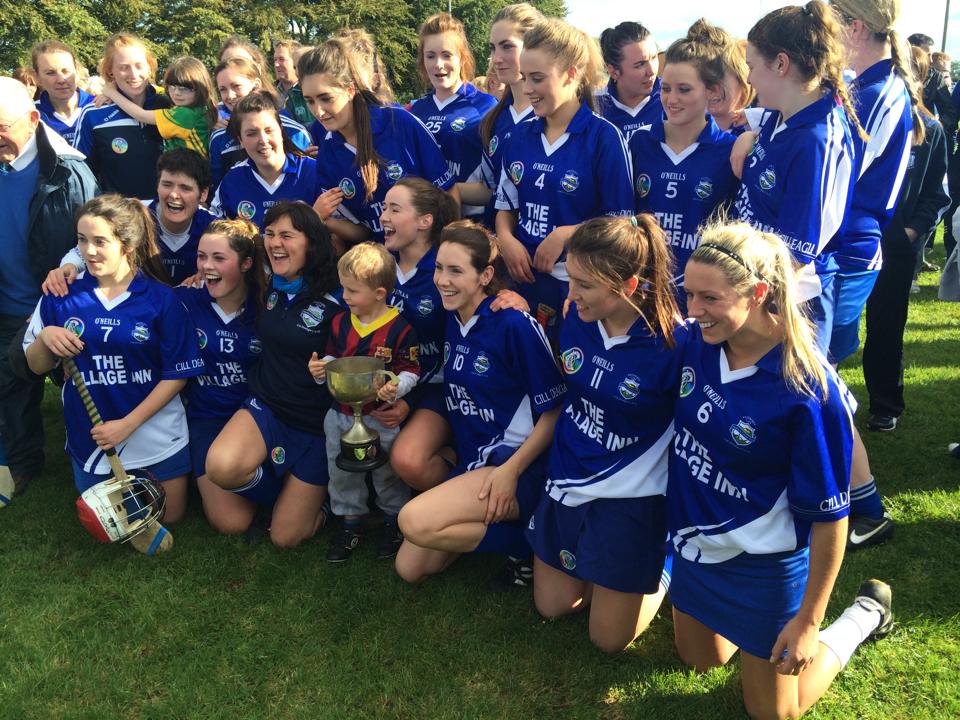 Village Ladies Come Good
After the heartache of last week, the village was boosted this week when the Ladies Caomgie team won the Intermediate Camogie Championship in Longwood on Saturday 4th October. They beat neighbours Boardsmill by a score of 3-11 to 3-06. They now move up to the Senior ranks for 2015. They have made great strides in recent years with having won the Junior Championship in 2012 and now the Intermediate Championship after only two years in the division. Great credit is due all involved.

Match Report Here.
---
Double Heartache for Hurlers
What a week it could have been, but what a weekend it was. Kildalkey hurlers suffered a double whammy of defeats as they lost out in the Junior Hurling Championship Final to St. Patrick's on Friday evening of the 26th September to an injury time goal. Match Report Here.

Sunday the 28th September saw the Seniors loose their semi-final tie against 2012 champions Kiltale. Match Report Here.

After the disappointments we can look to the camogie final this weekend.

Kildalkey V Boardsmill in the Intermediate Camogie final on Saturday 4th October at 1:45pm in Longwood. Come along and show your support.
---
SHC quarter-final: Kildalkey dethrone champions Kilmessan 06 September 2014

Kildalkey 2-12 Kilmessan 2-09
---
Upcoming Events
U13's Shield Final Monday 25th August 2014 in Kilmessan vs Boardsmill / Rathmolyon

U15's Semi Final Thursday 21st August 2014 in Trim vs Na Fianna

U16's Semi Final Monday 1st Sept 2014 vs Na Fianna
---
SHC - R2: Trim triumph in thriller
---
Puck Fada Winner
Congratulations to Beverley Lynch who won the Meath U-14 Puc Fada competition. Beverly will now go on to represent Meath in the Leinster Puc Fada.

Beverly is no stranger to success as she was also on the Kildalkey U-14 winning Camogie team who won the B final earlier on June 1st.
---
Senior Fixtures 2014
The Senior hurling fixtures have been announced and Kildalkey have been drawn in Group A in the Senior Hurling Championship and will face Longwood in R1, Trim in R2, O'Mahonys in R3, Boardsmill in R4 and finally Rathmolyon in R5.

Kildalkey have also been drawn in Group A in the Junior Hurling Championship and will face St.Patrick's in R1, Boardsmill in R2, Rathmolyon in R3, Trim in R4 and O'Mahonys in R5.

The lads got off to a winning start in the Hurling League Div.1B with victory over Longwood by 4-15 to 0-09 on Saturday 2nd March at Dunganny. Next outing is against Na Fianna in Baconstown on Saturday 9th March at 16:00.

All the fixtures and results are here..
---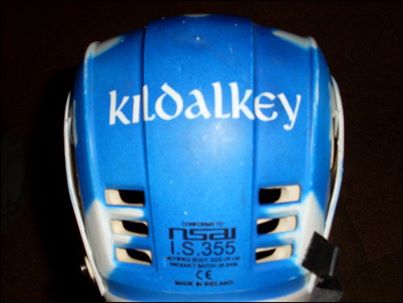 GAA Dinner Dance
The Kildalkey GAA Hurling & Camogie Club's annual Dinner Dance takes place on Saturday 29th March, 2014 at 20:00pm in the Castle Arch Hotel Trim.




---
U5-6 Hurling Nursery
Training Starting Sunday March 2nd @11am in Parish Hall.

Girls and Boys welcome. Only €1 per child.

Contact Tommy Collins 087 204 6380
---
Lotto Rule Changes
The new Improved GAA Lotto starts on Tuesday 21st January, 2014. You can still buy one line for €2 and two lines for €4 as before, but if you buy three lines you get a discount of €1 on the third line i.e. three lines cost just €5.

We no longer have a Lucky Dip. Instead, if you match three numbers you win or share €150.

Best of Luck and thank you for your continued support.
---
AGM
The annual general meeting for the club takes place this Saturday night the 11th of January, in the Parish hall at 6:45pm directly after mass for deceased club members in the church at 6pm.

Current members and new members are most welcome.
---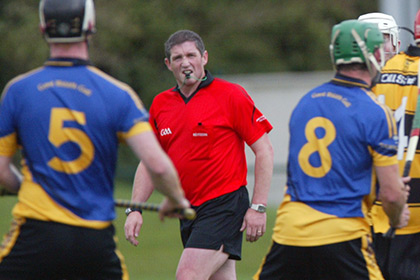 Village Man Refs SHC Final 2013
Kildalkey's only representative on the field of the 2013 Meath SHC final on Sunday 6th October was clubman Nick Fitzgerald who was honoured with being selected to referee the game that was contested between Kilmessan and Longwood. Longwood haven't won the title since 1936 and it wasn't to be this year either as Kilmessan won by a score of 2-16 to 0-11.


Match report here...

---
Meath U14 Hurlers
Congratulations to the Meath U14 hurlers on winning the Tony Forrestal Cup at the weekend. Well done to our club members Evan Fitzgerald, Brin Kelly, Cathal Reynolds, Conor Cribben Hayes and the manager Nick Fitzgerald and selector Pat O' Halloran.

Full report Here..
---
All Ireland Minor "B" Final
Best of luck to the Meath Minors who play Kerry in the final on Saturday 7th September 2013. Mark and Martin Healy, Adam Shelley, Luke Rickard and Kevin Mc Keown are the club represent the club on the team.
---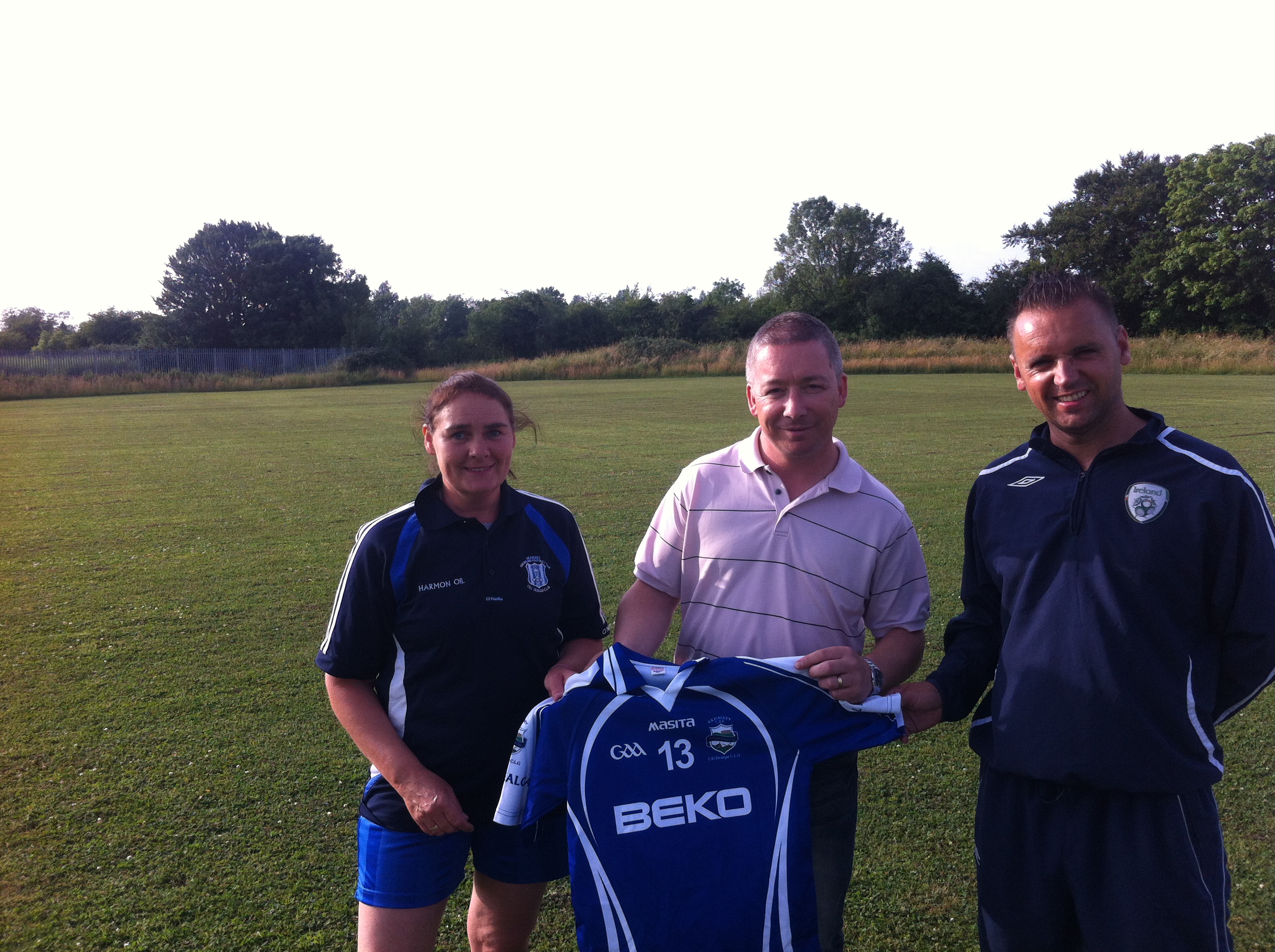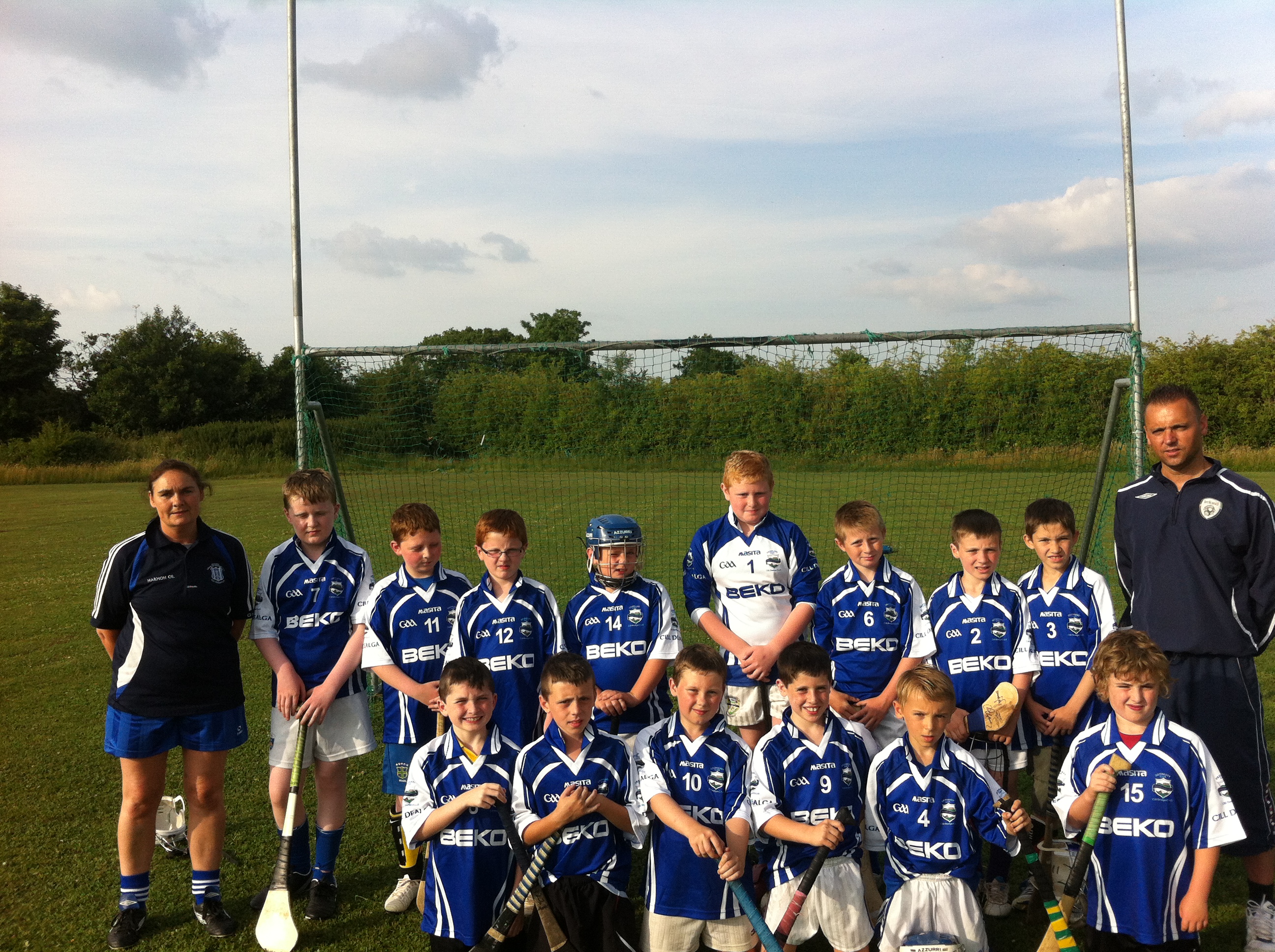 Under 14's Get New Kit
The Kildalkey U14's hurling team were presented recently with their new kit. Images show Karl Stewart of McManus Distributors on behalf of Beko Domestic Appliances presenting Kildalkey juvenile hurling trainers, Brendan Johnson and Ireneus Cully, with a new set of jerseys.

Second image shows team with their new kit.



---
Easter Draw
Kildalkey GAA Club Development Fund Draw will take place on Easter Sunday night in The Village Inn Kildalkey.
1st Prize €1000
2nd Prize 500 litres home heating oil
3rd Prize €200
4th Prize Drinks Hamper
Tickets are €5 each or a book of 5 for €20. Tickets are available from players, committee members, the shop, The Snug and The Village Inn. We will also hold an auction of sports memorabilia on the night. Your support on the night would be much appreciated.
---
2013 Junior Hurling Training
All Under 8 & Under 10 hurling training is starting on Wednesday next 27th March 2013 in the park at 6:00pm. All members of the teams are asked to attend and any new players are very welcome to come down and join us. If you can spread the word please folks as our kids of today are the seniors of tomorrow.
---
2013 Championship Draws
The draw for the 2013 SHC didn't do Kildalkey any favours as they were again drawn in Group B along with Longwood, Killyon, Kilmessan, Boardsmill and 2012 champions Kiltale.

The IHC draw sees Kildalkey in Group A pitted against Clann Na nGael, Ashbourne, Wolfe Tones, Ratoath and Blackhall Gaels. The inagural Brendan Davis knockout Cup starts this year on Easter Monday with Kildalkey drawn against Trim in the preliminary round with the victors to play Blackhall Gaels in the first round proper.

Best of luck to all the village players for 2013.
---
Annual Dinner Dance
Unfortunately with the closure of the Darnley, the Kildalkey Hurling and Camogie Dinner Dance had to change dates and venues. It will now takes place on the Saturday the 9th of March in the Castle Arch Hotel, Trim. Please keep this date free and hope you can all go!! Looking forward to a great night
---
Camogie
Intermediate Camogie training starts Fri 1st Feb in Fr Murphys at 7pm and the following Wed the 6th at 8 - 9.15pm. If any new adults are interested in playing, please us me know. New players always welcome! Runners only at the moment.
---
Christmas Raffle
02/12/2012

Tickets now on sale for our Christmas raffle. Top prize is €1,000. The draw will take place on Saturday 23rd December 2012 in the Snug House. The tickets cost €5 each or a book of 5 for €20. Tickets on sale from the shop, the two pubs and club members.
---
AGM
Kildalkey GAA AGM will be held on Saturday 8th of December 2012 in the Parish hall at 6:45pm. After mass for deceased members at 6pm in the Church. All members please attend.
---
Kildalkey GAA - 5K Road Run
Kildalkey GAA Development Committee are hosting a 5k road run or walk on Sunday November 4th. The cost is €15. The monies raised from this event will be put directly back into improving our playing facilities. We are asking players, non players, parents currently involved or not involved and also kids to take part.

Registration is via www.precisiontiming.net or the Parish Hall from 10:30am.

Please support this event.


---
Kildalkey Ladies Capture Junior Camogie Title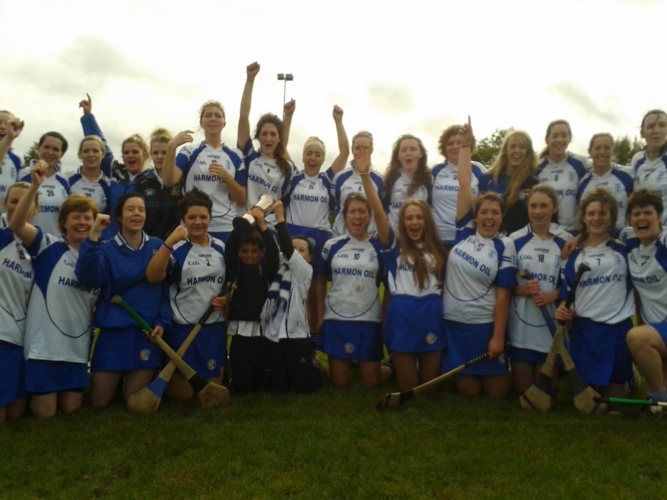 30/09/2012

Congratulations to the Kildalkey Ladies who captured the Meath Junior Camogie Champions 2012 with a victory over Trim by a score of 4-05 to 1-01 at Boardsmill today. As they have done all season, Kildalkey's matches have been played in wet conditions, and today was no exception. The match started in wet blustery conditions as Trim opened the scoring with a point. Kildalkey responded with a point and then took over the match scoring more freely as Trim struggled to get out of their own half for long periods of the game. As Kildalkey put up the scores on the board, the weather improved with the sun shining on a glorious victory.


---
Score Cash for your Club
Buy any goods or services in Trim Hire, Hardware and Diy Centre and Navan Hire, Hardware and Training Centre and the club will get back 5% of the value you spend up to the value of €1000. Each time you make a purchase you will be given stamps totalling 5% of the value you have spent. When you cash these in the club will receive a cheque for the value of the stamps.
---
2012 Hurling Nursery
Nursery, U8's & 10's Hurling training resuming this Wednesday 15/08/12 at 6.30pm on the top pitch. All players make a special effort to attend training Please.
---
Farewell Paddy
21st Jul 2012

The Village sent a fond farewell to Patrick (Paddy) Reilly, 83 years young, a former player, Chairman and president of Kildalkey GAA. The Club formed a Ceremonial farewell procession following his funeral mass to the local cemetery. Later that evening, a minutes silence was held in Trim GAA before Round 4 of the SHC clash between Kildalkey and Kilmessan. With both teams missing some 4/5 key players this was always going to be a close encounter. Happily, and as a sort of tribute to Paddy, Kildalkey emerged the victors by the narrowest of margins with a final score of Kildalkey 1-13 v 1-12 Kilmessan. This result ensures Kildakey a semi-final place in the 2012 SHC.



---
Kildalkey Hurling and Camogie Club Lotto Now Online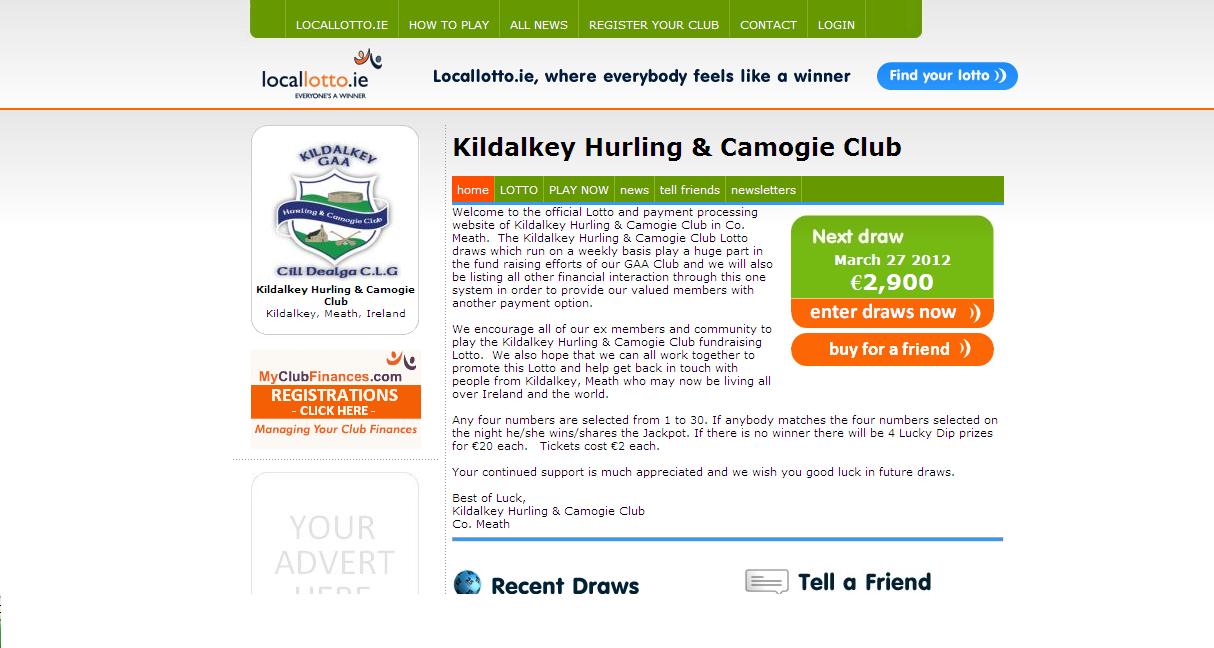 22nd May 2012

Kildalkey are now using the Internet to sell more of their club lotto tickets and also communicate with their members with the newsletter system provided by locallotto.ie myclubfinances.
more....


---
3rd April 2012

The Development Committee were proud to announce that they have signed the Contract and have financially paid over for the additional one acre of land last weekend. This will now make our new pitch a full size playing field.


2012 Hurling Nursery
We would like to inform you that the 2012 Hurling Nursery kicks off on February 28th running for 5 weeks indoors at Kildalkey Parish hall.

All welcome.

When Tuesdays 28th Feb to 27th March
Where Kildalkey Parish Hall (indoors)
Who Kids aged 5-7 yrs old (Boys & Girls)
Duration 5 weeks - Every Tuesday from 7pm to 8pm
Break for Easter Outdoor Season starts – 1st May
Cost €1 per child per week (to cover lighting costs)

Note: Kids are required to wear helmets & Shin guards to participate. Hurls to be provided. Kids will get to learns new skills and have fun. New players welcome. Any questions, please contact one of the coaching Team

Philip Lyons 087-6455124
Eoin Redmond 085-7228642
Ireneus Cully 086-3256768
---