Message Board
If you would like to post any messages to our Message Board, such as Happy Birthday to , Welcome Baby nnnn etc. or would like to feature your Service, Club or Society or post notices or updates to items already featured, you can contact us at info@kildalkeyvillage.com.
Please feel free to forward any comments as to how you found this website and we are open to any suggestions for features etc.
The kildalkeyvillage.com team.
---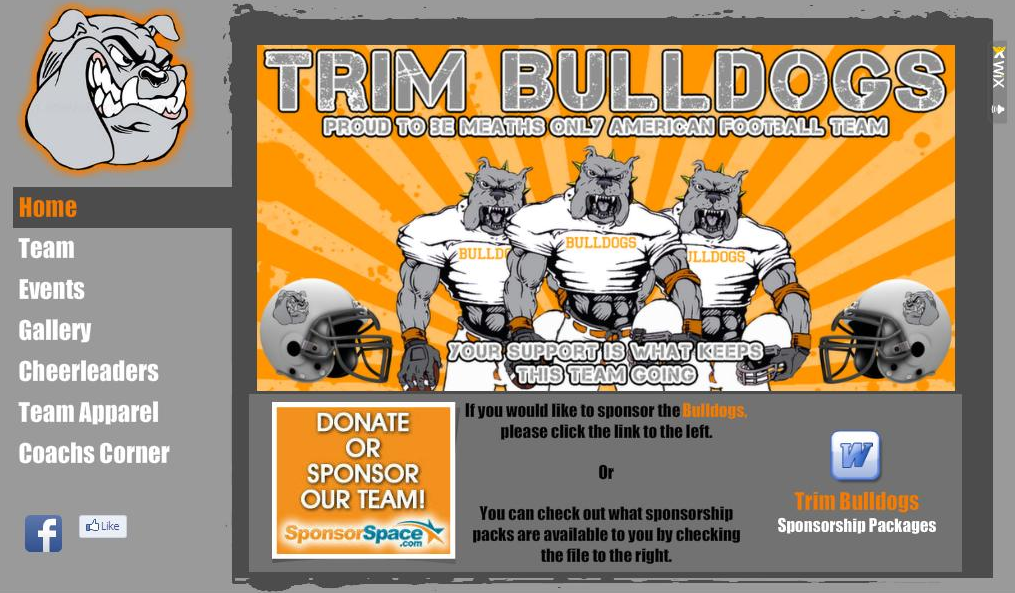 Trim Bulldogs - Invitation

The Trim Bulldogs would like to invite you to our home game on 3rd July 2011. We are the 1st & only American football team in Co. Meath. This is our 3rd game of 6 games, competing in the Irish American football league DV 8 division. We hope you consider supporting & joining us on the day, for a great game of football and celebration.
Date: 3rd July 2011
Time: 2.00pm
Venu: Boyne Community School, Trim
Attention local business owners
Why not consider advertising your business on our home pitch, Contact us for more Regards, Garland Drake - Head coach - Trim Bulldogs - American Football Club - Co. Meath, Ireland
Tel: 353 086 849 6997 Trim Bulldogs Website
---
07-Feb-2010
Hello,
I am from the States (Seattle) and trying to put together my first trip to Ireland, hope to come in June-July. My grandmother was born and raised in Kildalkey. When her parents died she was raised by relatives in Dunshauglin and attended school in Navan. She left for Boston in the early part of 1900's.
So nice to see your website. Amazing what the internet and Google maps has done.
Interesting to read other notes on the message board, including one from someone whose father used to work for the Potterton family, my grandmother's family I think.
I would like to post on the message board to inquire about anyone who might have information about these early years. Can you tell me how I might do that?
Thanks, Christine
---
24-Oct-2009
Hi there,
Just found your Kildalkey website. I moved to area a few years ago and its great to see a website full of info and history. Keep up the good work.
Kev
www.myspace.com/kevindeanephotography
www.myspace.com/deaneguitars
---
02-Oct-2009
Good evening,
I was enthralled to find a site dedicated to Kildalkey. I lived with my family there for some years around 1955 at the Bungalow in Rathcormac. My father worked for the Potterton family. I remember great times in Kildalkey, My friends names have mostly faded now, but I loved to visit and watch the blacksmith after school.
Are the cart wheel fixing stones still on the bank of the stream behind the smithy? I was shocked to see the development that has gone on with new housing on my last visit a few months ago. I still remember the little church at Rathcormac. It was demolished about 45 years ago.
I had many old friends in Rathcormac but their houses have gone now. I used to cycle to school in Athboy across Frayne Bog. Great times.
Later in life coming home from dances in Athboy rather late. Frightening coming across the bog. Now it does not resemble anything it used to, it has been destroyed, sad.
The road is very poor, not like it used to be. One morning very cold I was on my way to school on my trusty bike, I came across a blackbird standing, frozen stiff to the road on the middle of Frayne bog. The bog was a beautiful place, I went there on many school excursions, Hoping to visit Beautiful Ireland again in the near future.
Brian Jemmette
---
21-Feb-2009
Hello to you.
Great site, I am from Rotherham South Yorkshire. My mum comes from Kildalkey and I have many relatives living around the village, just wondered if you know the kelly family, Pat,Noel,Frank (RIP) and so on. My gran lived up from the church, it used to be the last house but now its all changed so much. Look forward to seeing more of the site when it is all up and running.
Keep up the good work.
Sean Wade
---
26-Nov-2008
Hello Richard,
While browsing the net, I came across the Website and would like to say "well done," to you - a lovely site, but some items such as Clubs/Societies I can't seem to access, could be fault of my ancient computer, which hopefully I'm replacing tomorrow!
I am living in Trim, but if the Lottery comes up, would love to live in Kildalkey - our adopted 2nd home! My Partner and I belong to the Kildalkey Active Retirement Club, and Kildalkey Bowls Club so we are more than familiar with the lovely Kildalkey and its wonderful inhabitants. Look forward to keeping in touch with the website. Good Luck,
Kindest Regards,
Sheila
---
19-Sept-2008
Hello from Pennsylvania
Hi
My mother was from Kildalkey and I still have relatives living there. In fact the house my mom was born in is still standing. I visited the village for the first time 3 years ago. It was truly amazing to stand on the same ground that my mother use to play on. Unfortunately she passed away in 2001 so she was only with us in spirit. I am very happy to have found your site. I will check back often to catch up on news. I would love to see more pictures of the village - old and new. It has been very difficult getting pictures from the old days.
Take Care and don't give up on the site!
Rose Gooch
(My mother's maiden name is Boyne)
---
01-May-2008
Past
I lived in kildalkey in 1966/1968 we move back to london in 68 it is good to see the village on your website. I had good times there the school has change a bit.
Thanks
james coyne.